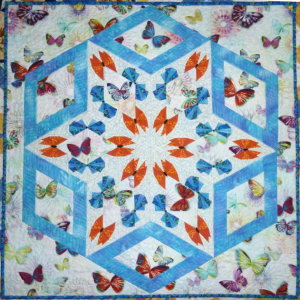 June 2016 - I finished my 2016 Hoffman Challenge just under the wire - due date is tomorrow (6/30). I tell myself every year that I am going to make my quilt in May but it only seems to happen every other year. I designed this one about 2 weeks ago. I call it Butterfly Star for obvious reasons.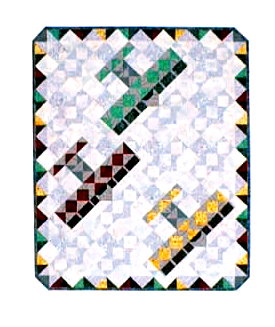 March 2016 - I made this quilt (Air Show) about 17 years ago. I took a traditional airplane block then worked piecing for bi-planes into the blocks.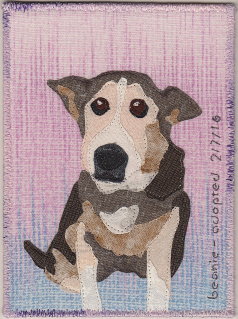 February 2016
As part of International Quilt Festival in Chicago this spring, Modern Quilt Studio is sponsoring a Pet Postcard Project. Quilters are invited to donate fabric postcards which will be sold at the festival for $20, proceeds go to a fund for homeless pets.

So I made Beanie - and I love him. I am tempted to send a $20 donation and keep the Beanie postcard.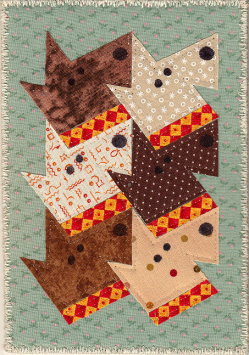 March 2016 Here is my second postcard. I call this Pack-o-pups. I actually have made a small quilt from this design. I should post that one.

Hmmmmm - maybe I will have to make 2 donations.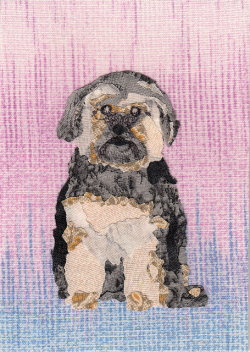 I made this one for my sister. It is her dog scooter. I added stitching to look like hair after I took this picture.



August 2015
Here is my Slice quilt on the cover of American Quilter September 2015 issue. I used fabrics from P&B Textiles' Dash collection to make the quilt. The pattern is included in the magazine. Click on the cover for a better picture of the quilt.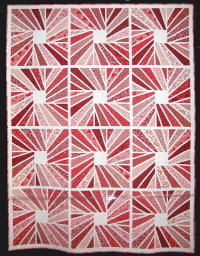 August 2015
I actually finished this quilt in 2014. It was a participant in Quilts Inc. Ruby Jubilee. Went to Houston in October 2014 and has been travelling since. The show came to my part of the country, Portland Oregon, so I finally go to see it in the show.

I made this quilt using my technique to make a stained-glass-like quilt from any pieced design.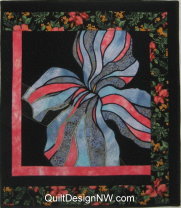 Mar. 2015 - I took a class a few years ago and I am sorry I don't remember who taught it. But I finally finished my orchid.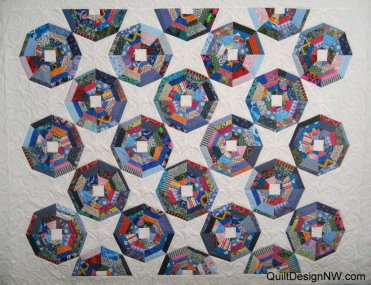 Feb. 2015
I'm working on a series of scrap-strip quilts, mostly to donate to charity. I kinda like Bagels.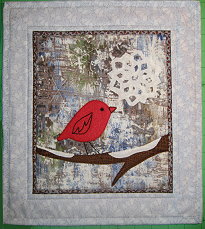 February 2015
A cute little wall hanging. The pattern was a freebie from the Quilter's Newsletter website. My bird is made of wool felt and I cut a different snowflake.

Click on the pic for a bigger version.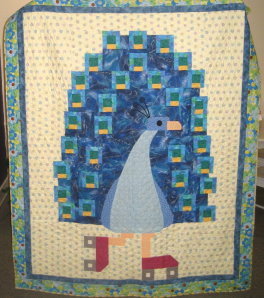 December 2014
Sweet Pea, the skating peacock. A quilt for my great-niece Lola. I used a picture in 'The Pixel Coloring Book' by Knock Knock as the basis for this quilt. The book has a lot of fun, pixel drawings that could be made into quilts.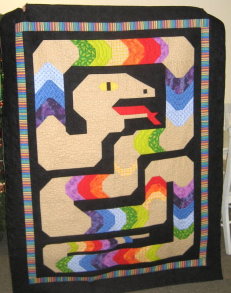 December 2014
Snakey Pete, A quilt for my great-nephew Felix. I used a picture in 'The Pixel Coloring Book' by Knock Knock as the basis for this quilt. The book has a lot of fun, pixel drawings that could be made into quilts.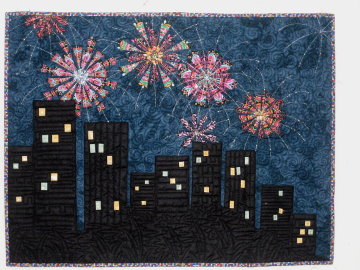 Sept. 2014 - Here is my Hoffman Challenge quilt for 2014. It is travelling to Houston and other places. I call this Urban 4th 2014.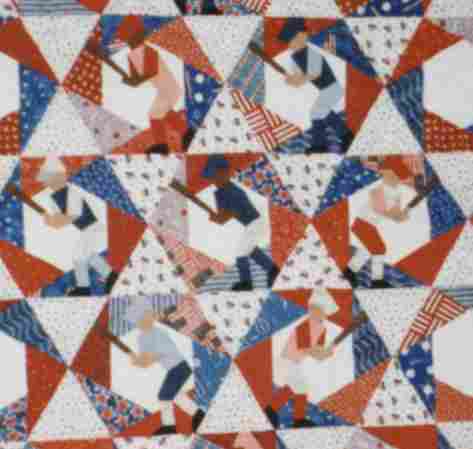 Many years ago I made this baseball player quilt for a nephew. I wonder if I still have the pattern? Here is a link to a picture of the whole quilt.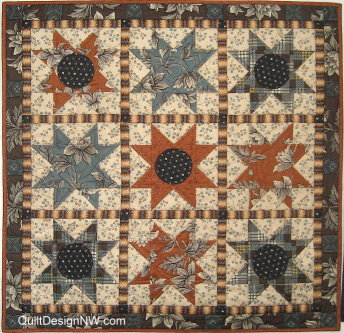 April 2014
I made this simple star quilt (which I call Charleston Star) using Andover's Charleston collection. Here is the free pattern (in pdf format) for this little quilt.
March 2014 - My grandmother made a pen & ink drawing of an old man sitting on an old-style wheelbarrow. My mother and I had talked about making a quilt from the scene and we finally got around to it. Here is the original drawing and the quilt. Click on the photo for a bigger pic.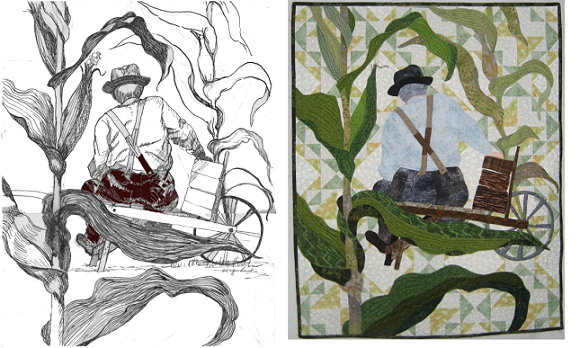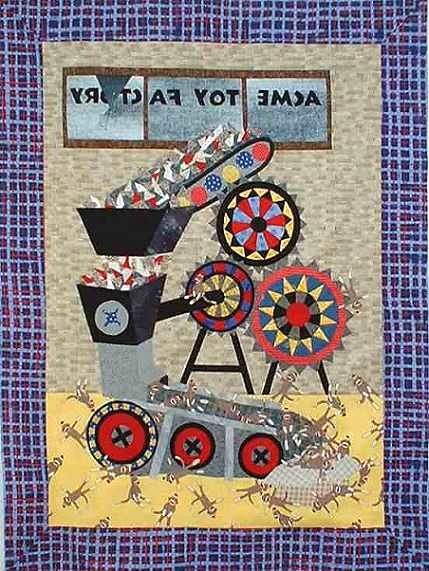 February 2014 - I like to find fun, unique quilts to post on pinterest. I have been looking at monkey quilts lately and haven't found one I like better than mine. A few years ago a local quilt show had a challenge to use the yellow monkey fabric in a quilt. Here was my entry. Click on the photo for a bigger pic: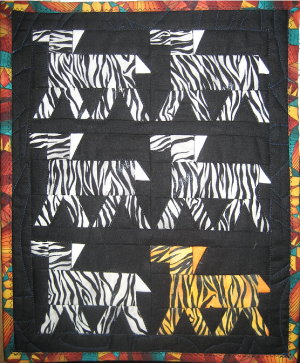 October 2013 - My friend Kay and I belonged to a journal quilt group several years ago. I miss that! Here is one of my quilts. I don't remember what the theme was but I was inspired to make this little zebra quilt with one orange zebra.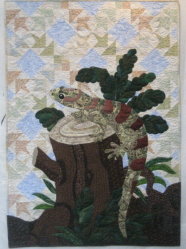 Aug 2009 - I just learned that my quilt, "Transformed", won Honorable Mention in the 2009 Hoffman Challenge - Mixed Techniques division. That's like 4th place. Not bad! Click on the quilt for a closer look.
I designed the background block just for this quilt. Click here for instructions to make this block.
If you like this block you might like some of my other animal blocks.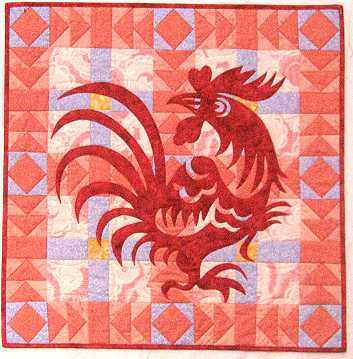 April 2009 - I started this quilt in a class by Janet
Fogg.
Aug 2007 - A couple of years ago I took a class from Cynthia England on "Picture Piecing". Here is part of the quilt that I designed in the class. I still have Mirror Lake to piece below Mount Hood.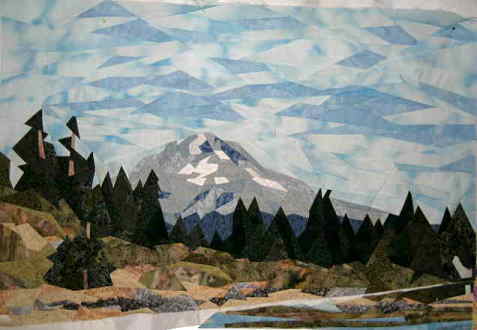 - - -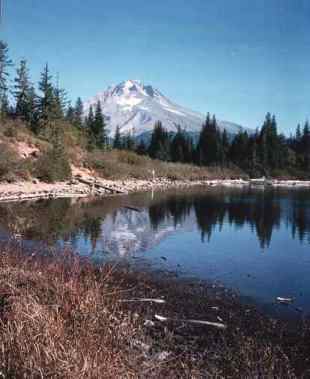 - - - - - - - - -

This is my photo of Mirror Lake and Mount Hood from which I designed the quilt.