2008 - Things have changed this last year. I am currently pattern editor for American Quilter magazine. Very interesting to see how the publication business works. I've had a couple of patterns in the magazine which led to the job. Keeps me very busy so I don't do as much longarm quilting for others as I used to.
2007 - Although I had been making my own clothes for many years, I made my first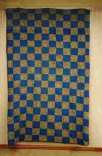 quilt in 1969. I decided that I needed to take a quilt with me to college - no instructions, class. There it is---------->
After I completed my degree in the very practical field of Anthropology I worked for a while as a parts person before going back to school in Data Processing. I continued to make quilts part time as I went on to work for 22 years in Information Technology, the last 12 at NIKE in Beaverton Oregon. I also played volleyball, basketball and softball.
In 1999 I left my computer manager job and became a professional quilter. It actually was quite by accident. My friend Julie opened a quilt shop and convinced me that I should teach for her, which I did. One day I took home some fabric from a series of bolts that wasn't selling very well and designed a quilt to use the fabric. As a joke I worked it up into a pattern, put it in a plastic bag and took it back to Julie. She sold a bunch of the patterns and that started my career as a quilt pattern designer.
A couple of years later as I was struggling to get my pattern and class sample quilts quilted I popped a video from Gammill into the VCR. My husband sat down to watch the show with me. When it was over he said "You should get one of those." I said "OK" so I bought a Classic and started a side business of quilting for others. I don't do many customer quilts anymore but I do still teach some of my longarm techniques, including how to design your own interlocking, free-motion like pantographs..
I like to work with new techniques, or improve on the old. I'm not a patient person so I need to find better ways to do most things. In fall 2006 my first (and perhaps only) book was published, Painless Paper-Piecing - no sewing through the paper so no paper to tear out and reuse the copy paper pattern; great technique for positioning the fabric patch accurately the first time; how to save fabric.
Now (2007) I am working on a series of machine appliqué designs based on my original continuous line machine quilting designs. I call them Continuous Line Machine Applique. Who knows what will come next!
Hope you enjoy looking through my patterns, gallery and tips. Marje - - -