Summer Bonus Patterns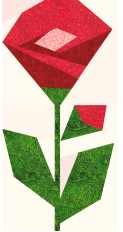 New 5/2007 and available for a limited time only! Download this paper-pieced Rose pattern to use with the other summer flowers in Get Set for Summer. This paper-pieced block finishes to the same size as the Fuschia, Morning Glory, Snap Dragon, and Sunflower blocks in the Get Set for Summer pattern. Rose pattern is downloaded in PDF format so you will need Acrobat Reader on your computer in order to process it. Note: A 1" square is printed on the pattern. Before starting the piecing process make sure that the square measures 1". See Acrobat Reader documentation for information on printing PDF files.

Download Rose_Pattern.pdf now!

Acrobat Reader is available FREE for
reading PDF files. Click on button to
left to download Reader.