Patterns From
Quilt Design Northwest


©2004 Quilt Design NW; All images, designs and instructions on this website are protected by copyright. You are welcome to link to my pages but please do not copy any of this information to your own website. All my patterns are also protected by copyright and may not be copied for any but the purchaser's personal use without express permission from Marjorie Rhine at QDNW. For information on Quilters and Copyrights visit About.com's FAQ page on this topic.
---
Simply Sunny
Using leftover blocks from a Simply Sunny project to make Pillow: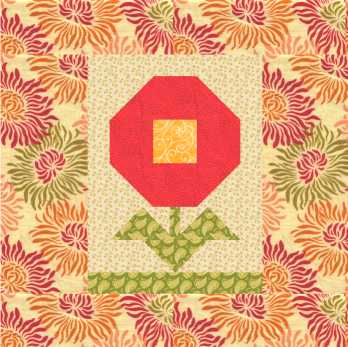 Pillow
16" x 16"
You will need one block for this project.
Sew background strips (1½" x 9½"), to the sides of the flower block.

Sew one background strip (1½" x 8½") to the top of the flower block.

Sew one green strip (1½" x 8½") to the bottom of the flower block.

Sew 5½" x 11½" border strips to the sides of the flower block.

Sew 3½" x 18½" to the top & bottom of the flower block.

If desired, quilt pillow top then trim to 16" square being careful to center the pieced block in the center of the pillow top.

From pillow back fabric cut two pieces 13½" x 16".

Fold 2" of 16" edge to the back and stitch down ¼" from
the raw edge. Repeat for 2nd back piece. Note: diagrams show wrong side of pillow back.

Optional: Apply Velcro to the pillow back opening. IMPORTANT! Position Velcro to the front of one back piece and the back of the other.

Overlap the two back pieces so the square created
by the two pieces together measures 16" x 16". If you have added Velcro, fasten the back pieces together and trim the back as necessary.

Place pillow back face up.

Center pillow top on pillow back, right sides together, and stitch around pillow top, ¼" from edge of pillow top.

Turn pillow right side out and insert 16" square pillow form.
Note: pillow form needs to be larger than finished size of pillow cover so that it fills the pillow snuggly.
---
Ask for patterns from Quilt Design Northwest at your local quilt shop
- or-
Order On-Line
---
Contact Information:

Quilt Design Northwest
Marjorie Rhine
22371 SE Donna Circle
Boring, OR 97009
(503) 658-3208
Click here to send me an email




Last Updated on December 16, 2006